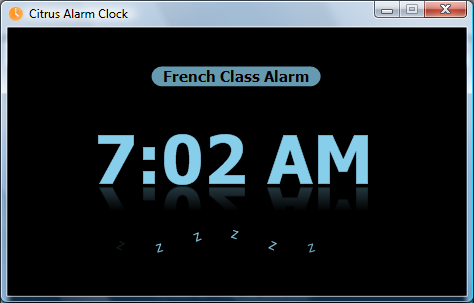 Citrus Alarm Clock
Alarm clock software for Windows
Tired of setting your alarm clock to a different time each day? Tired of waking up to typical radio fodder? Citrus Alarm Clock can help!
Download Now
Free License
Citrus Alarm Clock is now free for everyone! Simply copy and paste the following license string into the registration screen of the software.
Copy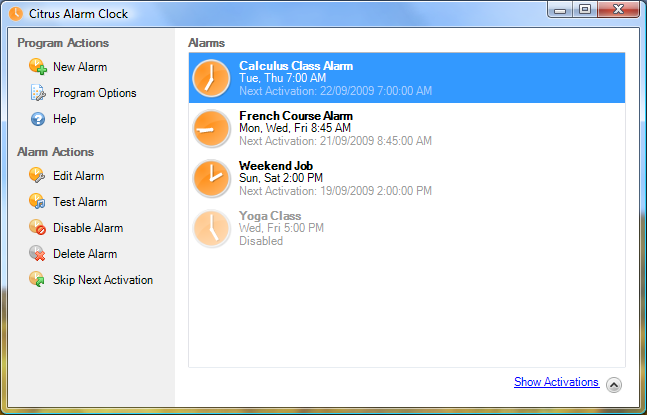 Wake up with alarm clock software
As a student, I had to set my bedside radio alarm clock to a different time each day. Sometimes I'd forget to set it and oversleep. Other times, I'd be startled awake with loud static or advertisements. After sleeping through a quiz entirely, I wrote Citrus Alarm Clock.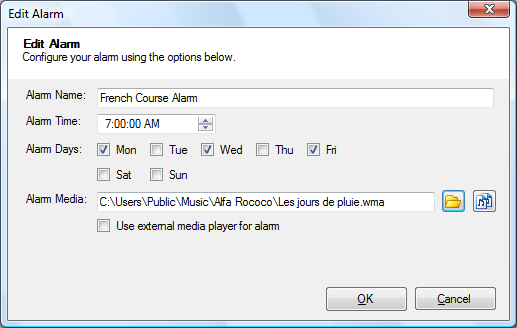 Perfect for students
Citrus lets you set as many alarms as you like, so you can wake up at different times on different days.
Your own music can be used as an alarm, even as playlists, and it will fade in gently so you won't be startled awake.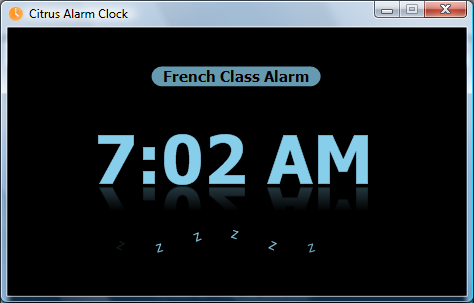 Features you'll love
If you need to snooze a little longer, hit the space bar—or keep your wireless mouse by your bedside and hold down the middle button.
Don't worry if your computer goes into its low-power "sleep" state overnight; Citrus will wake it up right before it wakes you up!
Feature overview
Set as many different alarms as you'd like with different times for different days
Wakes up your computer from its low-power sleep mode just in time for the alarm activation
Snooze mode lets you sleep in a little longer
Suports MP3, WMA, AAC, and all other formats supported by Windows Media Player
Create custom playlists and wake up to a different song each morning
Fade in alarm audio for relaxed awakening
Large, animated time display
Activate snooze mode with a quick middle-click from your bedstand with a wireless mouse
Always ensures your system volume is at just the right volume
Skip holidays using the "skip alarm" feature
System requirements
Citrus Alarm Clock requires Windows (Windows Vista or higher), the Microsoft .NET Framework 2.0, and your music collection. That's it!
Citrus is multilingual
Citrus is available in English, Russian, Spanish, French, Norwegian, Hebrew, Traditional Chinese, Simplified Chinese, Croatian, and Latvian.
Download it for free